<![if !supportEmptyParas]> <![endif]>
<![if !supportEmptyParas]> <![endif]>
<![if !supportEmptyParas]> <![endif]>
<![if !supportEmptyParas]> <![endif]>
<![if !supportEmptyParas]> <![endif]>
Anchor Church Caves
<![if !supportEmptyParas]> <![endif]>
<![if !supportEmptyParas]> <![endif]>
<![if !supportEmptyParas]> <![endif]>
<![if !supportEmptyParas]> <![endif]>
<![if !supportEmptyParas]> <![endif]>
<![if !supportEmptyParas]> <![endif]>
<![if !supportEmptyParas]> <![endif]>
<![if !supportEmptyParas]> <![endif]>
<![if !supportEmptyParas]> <![endif]>
<![if !supportEmptyParas]> <![endif]>
<![if !supportEmptyParas]> <![endif]>
<![if !supportEmptyParas]> <![endif]>
<![if !supportEmptyParas]> <![endif]>
Grace Dieu Viaduct and Craglets
<![if !supportEmptyParas]> <![endif]>
<![if !supportEmptyParas]> <![endif]>
<![if !supportEmptyParas]> <![endif]>
<![if !supportEmptyParas]> <![endif]>
<![if !supportEmptyParas]> <![endif]>
<![if !supportEmptyParas]> <![endif]>
<![if !supportEmptyParas]> <![endif]>
<![if !supportEmptyParas]> <![endif]>
<![if !supportEmptyParas]> <![endif]>
<![if !supportEmptyParas]> <![endif]>
<![if !supportEmptyParas]> <![endif]>
Nunckley Quarry
<![if !supportEmptyParas]> <![endif]>
Oaks Pinnacle
<![if !supportEmptyParas]> <![endif]>
Outwoods Crag
<![if !supportEmptyParas]> <![endif]>
Pocketgate Quarry
<![if !supportEmptyParas]> <![endif]>
Slawston Bridge
<![if !supportEmptyParas]> <![endif]>
Whitwick Quarry
<![if !supportEmptyParas]> <![endif]>
Whitwick Rocks
<![if !supportEmptyParas]> <![endif]>
Climbing Walls
<![if !supportEmptyParas]> <![endif]>
<![if !supportEmptyParas]> <![endif]>
<![if !supportEmptyParas]> <![endif]>
<![if !supportEmptyParas]> <![endif]>
<![if !supportEmptyParas]> <![endif]>
<![if !supportEmptyParas]> <![endif]>
<![if !supportEmptyParas]> <![endif]>
OS ref. SK339273 (Sheet 128)
SITUATION and CHARACTER
Anchor Church Caves are beside the Old River Trent near Ingleby. There is a public footpath at the bottom of the crag - or at the top when the river floods in winter. The crag is over 100m long and up to 12m high and in a very attractive setting. The main feature is not the crag at all, but the Hermit's Cave (an anchorite is a hermit). This cave has been cut from the rock (its that soft) and is complete with door openings and window holes. It is very unusual. The local kids use it as a playground and the fishermen use it as a place to get warm. The cliff is worth a visit just to see the cave. The cave is very old, being mentioned first in 1648. The Old River Trent has an interesting history. The course of the river was altered artificially so that 300 acres changed sides (Shakespeare, Henry IV, Pt.I., Act III, Sc. I ).
The rock is unfortunate. It is Triassic conglomerate, which is a sediment with protruding beds of pebbles. It the pebbles stick out far enough to be useful as holds then they are likely to come out. This adds real excitement, and those of a nervous disposition use top ropes. There are plenty of trees at the top for belays. The crag has an open aspect and faces north. Peter Harding climbed here in 1945-47 whilst he was at Loughborough College presumably because he didn't have enough petrol to go anywhere decent. The crag is not in Leicestershire at all, but is included here because no other guide would want it.
<![if !supportEmptyParas]> <![endif]>
APPROACH and ACCESS
The best approach is from Ingleby (near the famous old Swarkestone Bridge across the Trent) along the public footpath which runs along the top of a steep bank before dipping down to the river and the Caves. Alternatively one can approach from the other end of the path which starts near Foremark, part of Repton School. It takes about 10 minutes from either end to get to the Caves. There has been no problem with access.
<![if !supportEmptyParas]> <![endif]>
<![if !vml]>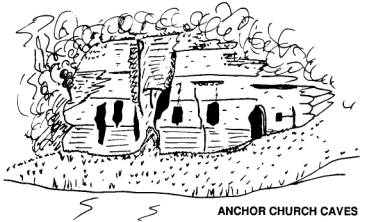 <![endif]>