<![if !supportEmptyParas]> <![endif]>
<![if !supportEmptyParas]> <![endif]>
<![if !supportEmptyParas]> <![endif]>
<![if !supportEmptyParas]> <![endif]>
<![if !supportEmptyParas]> <![endif]>
<![if !supportEmptyParas]> <![endif]>
<![if !supportEmptyParas]> <![endif]>
<![if !supportEmptyParas]> <![endif]>
<![if !supportEmptyParas]> <![endif]>
<![if !supportEmptyParas]> <![endif]>
<![if !supportEmptyParas]> <![endif]>
<![if !supportEmptyParas]> <![endif]>
<![if !supportEmptyParas]> <![endif]>
Cliffe Hill Quarry
<![if !supportEmptyParas]> <![endif]>
<![if !supportEmptyParas]> <![endif]>
<![if !supportEmptyParas]> <![endif]>
<![if !supportEmptyParas]> <![endif]>
<![if !supportEmptyParas]> <![endif]>
Grace Dieu Viaduct and Craglets
<![if !supportEmptyParas]> <![endif]>
<![if !supportEmptyParas]> <![endif]>
<![if !supportEmptyParas]> <![endif]>
<![if !supportEmptyParas]> <![endif]>
<![if !supportEmptyParas]> <![endif]>
<![if !supportEmptyParas]> <![endif]>
<![if !supportEmptyParas]> <![endif]>
<![if !supportEmptyParas]> <![endif]>
<![if !supportEmptyParas]> <![endif]>
<![if !supportEmptyParas]> <![endif]>
<![if !supportEmptyParas]> <![endif]>
<![if !supportEmptyParas]> <![endif]>
<![if !supportEmptyParas]> <![endif]>
<![if !supportEmptyParas]> <![endif]>
<![if !supportEmptyParas]> <![endif]>
<![if !supportEmptyParas]> <![endif]>
<![if !supportEmptyParas]> <![endif]>
<![if !supportEmptyParas]> <![endif]>
<![if !supportEmptyParas]> <![endif]>
<![if !supportEmptyParas]> <![endif]>
<![if !supportEmptyParas]> <![endif]>
<![if !supportEmptyParas]> <![endif]>
<![if !supportEmptyParas]> <![endif]>
<![if !supportEmptyParas]> <![endif]>
OS ref. SK475107 (Sheet 129)
SITUATION and CHARACTER
Take the A50 north out of Leicester for 7 miles past Markfield. At the large roundabout (M1/J22) take a smaller road on the left, signposted Thornton, uphill for 1km. Park in a small muddy layby on the right, just before the small roundabout.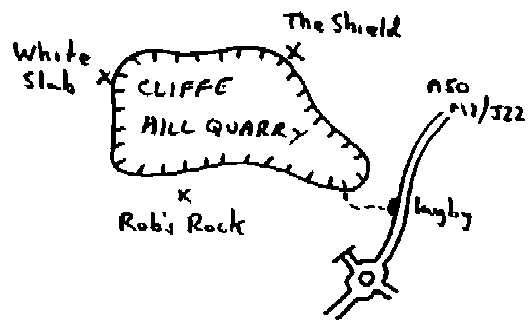 From the layby scramble over the earthbank on the right and again to a wire fence. Cross the fence and descend into the quarry by an easy scramble next to a concrete block. Once on the lower tier follow the road round to the right for The Shield and White Slab.
This huge quarry must be one of the largest bits of new rock to be climbed in Leicestershire.
Cliffe Hill Quarry is owned by Tarmac but at this point in time no quarrying activity is taking place and the whole area, which is vast, is probably destined to be used for landfill in the none to distant future. In the main, the quarry consists of dangerously loose slabs although some areas of climbable rock have been identified.
Bearing in mind the delicate access situation it is best to park at the 'Services' at Junction 22 on the M1 and walk down the road to Stanton-under-Bardon to gain access to the quarry. Parking in the gated quarry entrance has in the past attracted the attention of the local constabulary.
Cliffe Hill, Leicestershire news
If you want to do any of the routes in Cliffe Hill, I suggest you get in and do them as quickly as possible. The owners are currently draining the pool at the bottom and are going to start working the face furthest from the road when the pool is empty. This will eventually break through into another pit.
There is a manned security hut at the entrance by the roundabout. The best way in is therefore to park in the nearby motorway services and walk in. Access is available from a number of points from the adjacent road. If you see a red Toyota 4x4 coming, it's security. They will throw you out and try to take a photo of you with a disposable camera. Prints are apparently circulated to the owners, the security company and the police although I struggle to see what interest they would have in them.
Aug 2002
The quarrying has started. Bastards!
Mat Scull February 2004