<![if !supportEmptyParas]> <![endif]>
<![if !supportEmptyParas]> <![endif]>
<![if !supportEmptyParas]> <![endif]>
<![if !supportEmptyParas]> <![endif]>
<![if !supportEmptyParas]> <![endif]>
<![if !supportEmptyParas]> <![endif]>
<![if !supportEmptyParas]> <![endif]>
<![if !supportEmptyParas]> <![endif]>
<![if !supportEmptyParas]> <![endif]>
<![if !supportEmptyParas]> <![endif]>
The Brand
<![if !supportEmptyParas]> <![endif]>
<![if !supportEmptyParas]> <![endif]>
<![if !supportEmptyParas]> <![endif]>
<![if !supportEmptyParas]> <![endif]>
<![if !supportEmptyParas]> <![endif]>
<![if !supportEmptyParas]> <![endif]>
<![if !supportEmptyParas]> <![endif]>
<![if !supportEmptyParas]> <![endif]>
Grace Dieu Viaduct and Craglets
<![if !supportEmptyParas]> <![endif]>
<![if !supportEmptyParas]> <![endif]>
<![if !supportEmptyParas]> <![endif]>
<![if !supportEmptyParas]> <![endif]>
<![if !supportEmptyParas]> <![endif]>
<![if !supportEmptyParas]> <![endif]>
<![if !supportEmptyParas]> <![endif]>
<![if !supportEmptyParas]> <![endif]>
<![if !supportEmptyParas]> <![endif]>
<![if !supportEmptyParas]> <![endif]>
<![if !supportEmptyParas]> <![endif]>
<![if !supportEmptyParas]> <![endif]>
<![if !supportEmptyParas]> <![endif]>
<![if !supportEmptyParas]> <![endif]>
<![if !supportEmptyParas]> <![endif]>
<![if !supportEmptyParas]> <![endif]>
<![if !supportEmptyParas]> <![endif]>
<![if !supportEmptyParas]> <![endif]>
<![if !supportEmptyParas]> <![endif]>
<![if !supportEmptyParas]> <![endif]>
<![if !supportEmptyParas]> <![endif]>
<![if !supportEmptyParas]> <![endif]>
<![if !supportEmptyParas]> <![endif]>
<![if !supportEmptyParas]> <![endif]>
OS ref. SK537132 (Sheet 129)
SITUATION and CHARACTER
Situated in the private garden of The Brand this crag-like quarry offers some very fine climbing on steep, often perfect, slate. The setting is idyllic especially in the sun on a summer's evening. The rock is smooth but blocky, some of the blocks having razor sharp edges. The routes are long.
<![if !supportEmptyParas]> <![endif]>
APPROACH and ACCESS
Access is strictly limited to parties having permission to climb from Colonel Sir Andrew Martin, one time Lord Lieutenant of Leicestershire. You should telephone first (0509-890269) and follow the instructions given. Colonel Martin usually lets you park at the house (up a drive across a field) and has been very welcoming.
Permission to climb should now be sought from Lady Martin.
Climbers are asked not to destroy the excellent relationships that exists with Sir Andrew by climbing without permission and leaving litter. It is useless to trespass because the crag is plainly visible from the house. The garden is also an area of special scientific interest because of rare lichens and other plant rarities.
<![if !supportEmptyParas]> <![endif]>
HISTORY
Before the Enclosures of about 1820, stock used to be driven annually to places on the edge of Charnwood Forest to be marked with the brands of the owners. The Brand was one such place.
Slate quarrying was a growth industry in the Brand area in the l7th and l8th century. The stone, suitably dressed, was used for headstones (remember this when you climb here), guttering, water troughs, gate posts, dry stone walling and flagstones. Not much was used for roofing as the roofing slates were very thick and demanded massive roof structures. However, the slates (again ancient Precambrian rocks) last forever and there is a flourishing trade in second-hand Swithland slate.
The Hind family started quarrying in The Brand in 1688, leasing the land from the Earl of Stamford. They continued until 1811 when they moved to Swithland Wood. The land was purchased by the Hinds during the l8th century and sold in 1851 to the Ellis family. They continued quarrying and built the curious tower in the quarry to the north to house a pumping engine. Eventually quarrying ceased and the Ellis's landscaped the site by part filling the middle of the long thin quarry to give Trout Water and Perch Water (the climbing quarry).
The Brand Estate was sold to Robert Frewen Martin in 1887 for £9,850. Robert Martin was a prominent local engineer and the managing partner of the nearby Mountsorrel granite quarry. The Martin's still own the estate.
<![if !supportEmptyParas]> <![endif]>
<![if !vml]>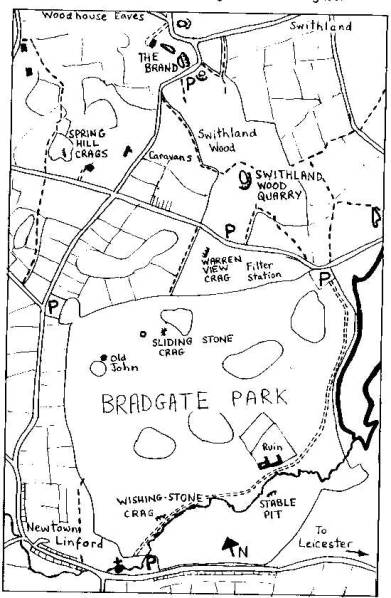 <![endif]>