<![if !supportEmptyParas]> <![endif]>
<![if !supportEmptyParas]> <![endif]>
<![if !supportEmptyParas]> <![endif]>
<![if !supportEmptyParas]> <![endif]>
<![if !supportEmptyParas]> <![endif]>
<![if !supportEmptyParas]> <![endif]>
<![if !supportEmptyParas]> <![endif]>
<![if !supportEmptyParas]> <![endif]>
Blackbrook Reservoir
<![if !supportEmptyParas]> <![endif]>
<![if !supportEmptyParas]> <![endif]>
<![if !supportEmptyParas]> <![endif]>
<![if !supportEmptyParas]> <![endif]>
<![if !supportEmptyParas]> <![endif]>
<![if !supportEmptyParas]> <![endif]>
<![if !supportEmptyParas]> <![endif]>
<![if !supportEmptyParas]> <![endif]>
<![if !supportEmptyParas]> <![endif]>
<![if !supportEmptyParas]> <![endif]>
Grace Dieu Viaduct and Craglets
<![if !supportEmptyParas]> <![endif]>
<![if !supportEmptyParas]> <![endif]>
<![if !supportEmptyParas]> <![endif]>
<![if !supportEmptyParas]> <![endif]>
<![if !supportEmptyParas]> <![endif]>
<![if !supportEmptyParas]> <![endif]>
<![if !supportEmptyParas]> <![endif]>
<![if !supportEmptyParas]> <![endif]>
<![if !supportEmptyParas]> <![endif]>
<![if !supportEmptyParas]> <![endif]>
<![if !supportEmptyParas]> <![endif]>
<![if !supportEmptyParas]> <![endif]>
<![if !supportEmptyParas]> <![endif]>
<![if !supportEmptyParas]> <![endif]>
<![if !supportEmptyParas]> <![endif]>
<![if !supportEmptyParas]> <![endif]>
<![if !supportEmptyParas]> <![endif]>
<![if !supportEmptyParas]> <![endif]>
<![if !supportEmptyParas]> <![endif]>
<![if !supportEmptyParas]> <![endif]>
<![if !supportEmptyParas]> <![endif]>
<![if !supportEmptyParas]> <![endif]>
<![if !supportEmptyParas]> <![endif]>
<![if !supportEmptyParas]> <![endif]>
<![if !supportEmptyParas]> <![endif]>
<![if !supportEmptyParas]> <![endif]>
<![if !supportEmptyParas]> <![endif]>
<![if !supportEmptyParas]> <![endif]>
OS ref. SK454171 (Sheet 129)
SITUATION and CHARACTER
More properly called One Barrow Plantation, this crag is an old granite quarry which was opened for the construction of the concrete dam across Blackbrook about the turn of the century. The dam replaced one built for the Loughborough to Ashby canal which collapsed in 1807, closing the canal. When the new dam was finished in 1906 it was damaged by an earthquake but the damage was deemed minor and the valley was flooded by Loughborough Corporation Waterworks.
<![if !supportEmptyParas]> <![endif]>
The rock is the most ancient of the Precambrian rocks of Charnwood and it has been much altered over time A geological fault passes close by the crag which may account for its preponderance to fall down. The crag is in a fine south-facing situation above the water at the east end of Blackbrook reservoir. Trees have grown up and the rock is in danger of disappearing. The rock (not the vegetation) is an SSSI.
<![if !supportEmptyParas]> <![endif]>
The crag consists of strange red slabs, short steep bounding walls and I overhangs. The main slab is stepped with small overhangs which detach
from time to time. It was once thought that, with traffic, the crag would clean up. But there have been too many rockfalls for that to be believed now. The rock shatters into small pieces and has built up a useful talus i slope at the bottom.
Because the water level in the reservoir goes up and down, more or less of the slope at the bottom is exposed. Even at "high water" the crag is accessible. At very low water there is some good additional climbing on the wall to the left of the main crag (another Baptism).
<![if !supportEmptyParas]> <![endif]>
APPROACH and ACCESS
From interchange 23 on the M1 head west along the A512. Turn left at the second traffic lights (towards Oaks in Charnwood) and turn right at the cross-roads at the bottom of a hill. After about a quarter of a mile a small lane goes off to the left beside a house (Botany Bay). A few hundred yards down the lane one comes to the water and a magnificent over-engineered blue brick bridge which carries a track over to One Barrow Lodge. There is very limited parking here. It is best to park on the road at Botany Bay and walk down.
<![if !supportEmptyParas]> <![endif]>
The crag is owned by Severn Trent who are very concerned about vandalism, less so about swimming (there are notices, so it is obviously a good spot), and hardly at all about climbing. The land at the top of the crag is owned by DeLisle, and the gamekeeper of High Sharpley has been known to try to turn people off.
<![if !supportEmptyParas]> <![endif]>
<![if !vml]>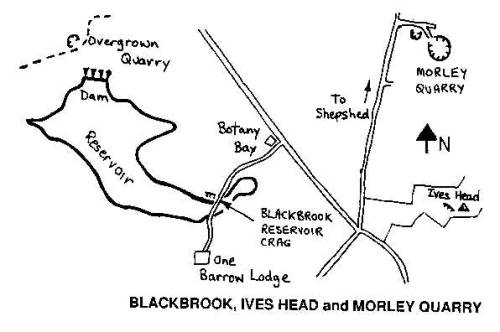 <![endif]>