<![if !supportEmptyParas]> <![endif]>
<![if !supportEmptyParas]> <![endif]>
<![if !supportEmptyParas]> <![endif]>
<![if !supportEmptyParas]> <![endif]>
<![if !supportEmptyParas]> <![endif]>
<![if !supportEmptyParas]> <![endif]>
<![if !supportEmptyParas]> <![endif]>
<![if !supportEmptyParas]> <![endif]>
<![if !supportEmptyParas]> <![endif]>
<![if !supportEmptyParas]> <![endif]>
<![if !supportEmptyParas]> <![endif]>
<![if !supportEmptyParas]> <![endif]>
<![if !supportEmptyParas]> <![endif]>
<![if !supportEmptyParas]> <![endif]>
<![if !supportEmptyParas]> <![endif]>
<![if !supportEmptyParas]> <![endif]>
<![if !supportEmptyParas]> <![endif]>
<![if !supportEmptyParas]> <![endif]>
Grace Dieu Viaduct and Craglets
<![if !supportEmptyParas]> <![endif]>
<![if !supportEmptyParas]> <![endif]>
<![if !supportEmptyParas]> <![endif]>
<![if !supportEmptyParas]> <![endif]>
<![if !supportEmptyParas]> <![endif]>
<![if !supportEmptyParas]> <![endif]>
<![if !supportEmptyParas]> <![endif]>
<![if !supportEmptyParas]> <![endif]>
<![if !supportEmptyParas]> <![endif]>
<![if !supportEmptyParas]> <![endif]>
<![if !supportEmptyParas]> <![endif]>
<![if !supportEmptyParas]> <![endif]>
<![if !supportEmptyParas]> <![endif]>
<![if !supportEmptyParas]> <![endif]>
<![if !supportEmptyParas]> <![endif]>
Slawston Bridge
<![if !supportEmptyParas]> <![endif]>
<![if !supportEmptyParas]> <![endif]>
<![if !supportEmptyParas]> <![endif]>
<![if !supportEmptyParas]> <![endif]>
<![if !supportEmptyParas]> <![endif]>
<![if !supportEmptyParas]> <![endif]>
<![if !supportEmptyParas]> <![endif]>
<![if !supportEmptyParas]> <![endif]>
<![if !supportEmptyParas]> <![endif]>
OS ref. SP783934 (Sheet 141)
SITUATION and CHARACTER
"The Bridge" is not natural rock at all but the abutments of an old railway bridge over a road. The span has gone.  Slawston Bridge has become popular as a climbing area; after all, there's not much south‑east of Leicester.  The bridge offers the best local climbing with numerous steep 7m fingery problems in a fine open setting.  The main walls are exactly the right height - too high to treat falls in a cavalier manner, and not high enough to get seriously hurt (unless your dad's called PP, when a crash mat would be useful or you are run over).  There are three "rocks" (ironstone, gritstone and smooth blue engineers bricks).  Quite why this particular bridge was built to be favourable for climbing is unclear, but others on the same railway line don't give any worthwhile climbing at all.
<![if !supportEmptyParas]> <![endif]>
APPROACH and ACCESS
The bridge is about 16 miles south‑east of Leicester.  The quickest approach is on minor roads through Great Glen to Kibworth Harcourt, then left on minor roads through the Langtons and Welham to Weston‑by‑Welland.  As you enter Weston, turn sharp left and follow the Slawston road for approximately 1.5 miles.  The Wheel at Weston sells good beer and seems to tolerate climbers.
<![if !supportEmptyParas]> <![endif]>
<![if !vml]>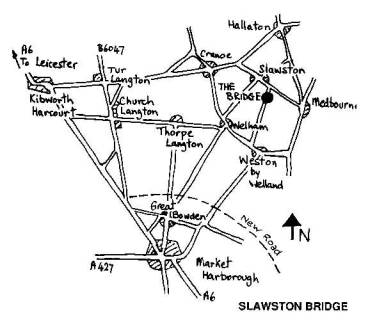 <![endif]>   
<![if !supportEmptyParas]> <![endif]>
<![if !supportEmptyParas]> <![endif]>
The bridge is on a fairly quiet public road and access is no problem.  Please remember that an accident involving a vehicle might be sufficient to cause a ban on climbing.
<![if !supportEmptyParas]> <![endif]>
THE CLIMBS
<![if !supportEmptyParas]> <![endif]>
The layout is simple, with two vertical walls, each with right and left wings. The wings are at an easier angle.  The terms left and right refer to the normal direction of approach from the south.  The drainage pipes are a prominent feature of the LEFT WALL.  The problems indicated on the diagrams are strangely natural, inescapable lines given by grooves, ribs and lines of weakness on the walls.  Strong fingers and the ability to rest out of balance are the prerequisites.  When on ribs and in grooves it is considered unethical to use holds on adjacent walls.
The grades range from 4b to 6b.
<![if !supportEmptyParas]> <![endif]>
Left Wing of Right (Sun) Wall      Right (Sun) Wall
<![if !supportEmptyParas]> <![endif]>
Right Wing of Right (Sun) Wall     Left Wing of Left (Pipe) Wall
<![if !supportEmptyParas]> <![endif]>
Left (Pipe) Wall     Tetrion Traverse (Photo)
<![if !supportEmptyParas]> <![endif]>
<![if !vml]>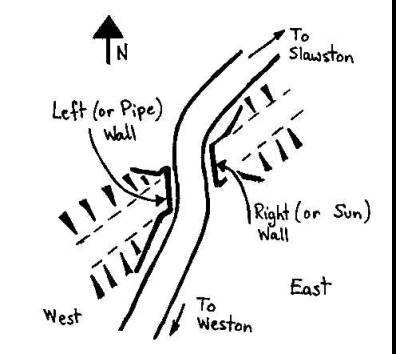 <![endif]>
<![if !supportEmptyParas]> <![endif]>
<![if !supportEmptyParas]> <![endif]>
<![if !supportEmptyParas]> <![endif]>
<![if !supportEmptyParas]> <![endif]>