<![if !supportEmptyParas]> <![endif]>
<![if !supportEmptyParas]> <![endif]>
<![if !supportEmptyParas]> <![endif]>
<![if !supportEmptyParas]> <![endif]>
<![if !supportEmptyParas]> <![endif]>
<![if !supportEmptyParas]> <![endif]>
<![if !supportEmptyParas]> <![endif]>
<![if !supportEmptyParas]> <![endif]>
<![if !supportEmptyParas]> <![endif]>
Bradgate Park
<![if !supportEmptyParas]> <![endif]>
<![if !supportEmptyParas]> <![endif]>
<![if !supportEmptyParas]> <![endif]>
<![if !supportEmptyParas]> <![endif]>
<![if !supportEmptyParas]> <![endif]>
<![if !supportEmptyParas]> <![endif]>
<![if !supportEmptyParas]> <![endif]>
<![if !supportEmptyParas]> <![endif]>
<![if !supportEmptyParas]> <![endif]>
Grace Dieu Viaduct and Craglets
<![if !supportEmptyParas]> <![endif]>
<![if !supportEmptyParas]> <![endif]>
<![if !supportEmptyParas]> <![endif]>
<![if !supportEmptyParas]> <![endif]>
<![if !supportEmptyParas]> <![endif]>
<![if !supportEmptyParas]> <![endif]>
<![if !supportEmptyParas]> <![endif]>
<![if !supportEmptyParas]> <![endif]>
<![if !supportEmptyParas]> <![endif]>
<![if !supportEmptyParas]> <![endif]>
<![if !supportEmptyParas]> <![endif]>
<![if !supportEmptyParas]> <![endif]>
<![if !supportEmptyParas]> <![endif]>
<![if !supportEmptyParas]> <![endif]>
<![if !supportEmptyParas]> <![endif]>
<![if !supportEmptyParas]> <![endif]>
<![if !supportEmptyParas]> <![endif]>
<![if !supportEmptyParas]> <![endif]>
<![if !supportEmptyParas]> <![endif]>
<![if !supportEmptyParas]> <![endif]>
<![if !supportEmptyParas]> <![endif]>
<![if !supportEmptyParas]> <![endif]>
<![if !supportEmptyParas]> <![endif]>
<![if !supportEmptyParas]> <![endif]>
About OS ref. SK526101 (Sheet 129)
SITUATION and CHARACTER
Situated four miles north west of Leicester, Bradgate Park is an ancient deer park given to the people of Leicestershire by Charles Bennion (a director of British United Shoe Company) in 1928 for their quiet recreation. Bradgate is a beautiful area of rolling bracken covered hills, walled spinneys, and small craggy outcrops of slate and granite. There are many ancient hollow oak trees, reputedly topped after the execution of Lady Jane Grey. The park is justifiably popular with visitors, so it is best avoided on Sundays and especially Bank Holidays.
<![if !supportEmptyParas]> <![endif]>
Conspicuous from all over Leicestershire is the distinctive beer-mug shaped folly of Old John on the top of the highest hill. This is an l8th century observation tower built to give the ladies a view of a race course which circled the top of the hill. You can see the large stones marking the course circling the hill. The "handle" was built later to turn the tower into a beer-mug in memory, so the story goes, of a beer-loving family retainer who was killed when a pole in the middle of a bonfire burned through and fell on him. Believe that and you'll believe anything. Below the tower is the remains of a walled enclosure built into the rock face which was formerly a stable for the horses. There are one or two easy routes here.
<![if !supportEmptyParas]> <![endif]>
Below the War Memorial there are easy-angled crags, the haunt of children trying their first scrambles. These rocks are slatey and contain the ancient Charniodiscus fossil (see also Pocketgate Ouarry).
<![if !supportEmptyParas]> <![endif]>
APPROACH and ACCESS
There are three entrances to the Park which have car parks. The busiest is beside the church in Newtown Linford. There is a north entrance giving access to the Old John area and another way in on the east side near Cropston reservoir.
<![if !supportEmptyParas]> <![endif]>
Activities in the Park are managed by County Hall and have been increasingly restricted in recent times. Climbing on the rocks is not actually forbidden by the displayed Bye Laws - although climbing the trees, walls and buildings is.
The warden has been known to say that climbing is forbidden after the volume of public complaints (another Bye Law says you can't do anything that produces complaints).
<![if !supportEmptyParas]> <![endif]>
<![if !vml]>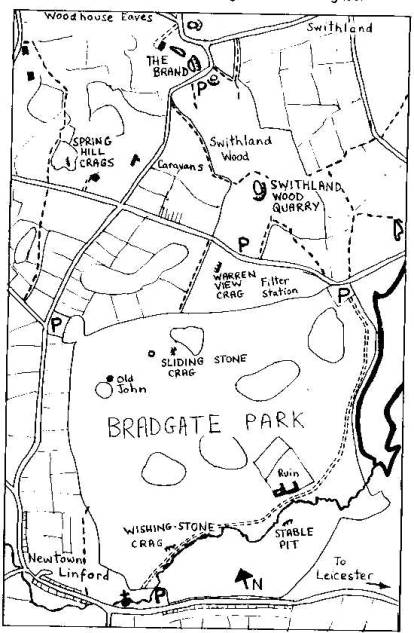 <![endif]>